Lake Country Log Homes Ships to Alberta
Lake Country Log Homes ships to Alberta. We are proud to supply Custom Handcrafted Log and Timber Frame Homes to our clients all over the world. Contact Us Today for an information package or to obtain a quotation. Let's build your dream from nature!
Alberta, Canada has plenty to offer for the outdoors person. Near the top of the list would be the Icefields Parkway which goes through Banff National Park and Jasper National Park. For hours, you will be able to drive through the Continental Divide and witness some of its mountain peaks, icefields and valleys. Also of note is Wood Buffalo National Park, which is one of the biggest parks in the world. Here you can, among many other things, paddle the Athabasca River between Fort McMurray and Fort Chipewyan – a journey that can take you up to 10 days!
The town of Spirit River, is a farming community located in the fertile Peace Country (Canada's northernmost agricultural area)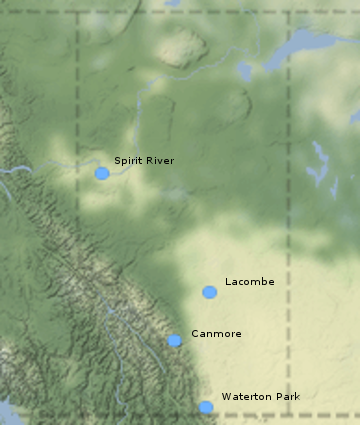 Leaflet | Map tiles by Stamen Design, CC BY 3.0 – Map data © OpenStreetMap
Did You Know . . .
most of Alberta's lakes were formed during the last glacial period which occured 12,000 years ago?
that the distinctive blue color of Moraine Lake is caused by the refraction of light off rock flour – deposited there on a regular basis?