Corner Notches & Tails / Other Joinery
At Lake Country Log Homes, we apply time proven methods of construction to your custom design, creating you a log home full of natural beauty, character and precision fit joinery.
Corner Notches & Tails
We use two main types of Log Corner Notches with a variety of Log Tail styles (Straight End, Staggered End, Staggered End Flared Butt, Chiseled Ends and Custom). Pictured and explained below are the Saddle Notch and the Diamond Wedge Notch used with the Staggered End Tail and the Staggered End Tail with Flared Butt. The Photo Gallery at the end of this page will showcase more examples.
Saddle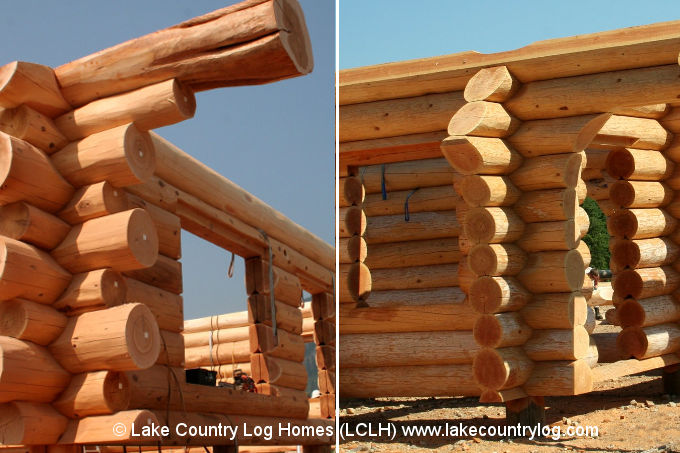 Seen on the left is a Staggered End Western Red Cedar (aka West Coast Cedar) Log Tail using the Saddle Notch. The Saddle Notch maximizes compression in the corners so as to create a tighter fit over time. On the right is the same but with a Straight End Log Tail style. Notice also the slope cut that accomodates roof framing.
Diamond Wedge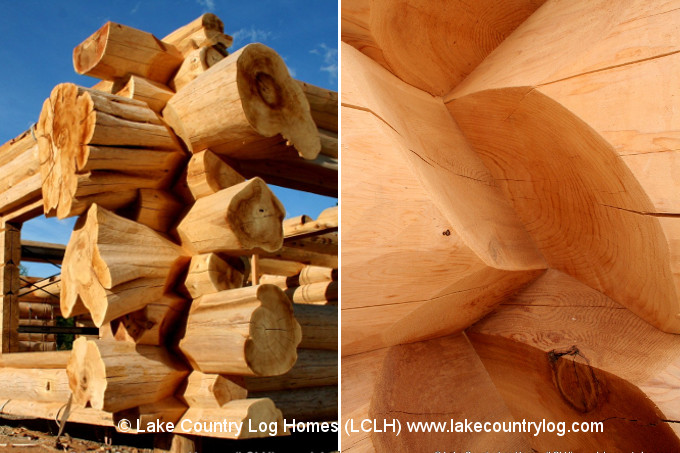 Shown on the left is a Staggered End Flared Butt Log Tail with Western Red Cedar (aka West Coast Cedar) logs throughout using the Diamond Wedge Notch. This variation of the Saddle Notch is used in specific situations, such as with staggered end corners where logs of drastically different diameters are fit together.
Other Joinery
Below, we focus on two main types of joinery: the Dovetail and the Mortise & Tenon.
Dovetail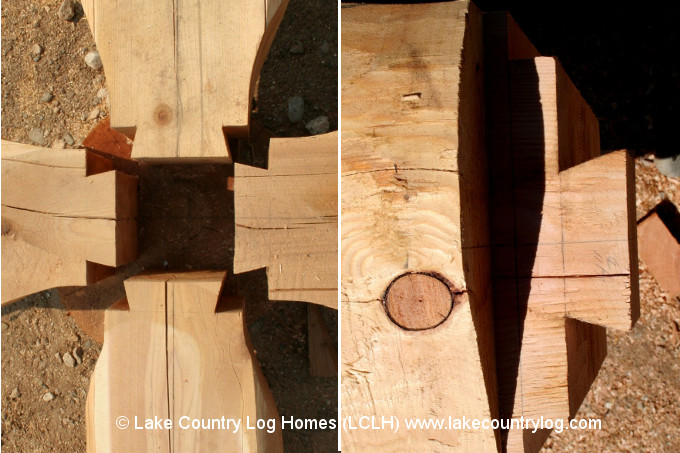 Dovetail Joinery (named because of its' shape) has been found in ancient tombs from both Egypt and China. It has survived as a chosen method of joinery because of it's tensile strength. We use dovetail joinery for two purposes: to create a solid end to end union between two beams and for corner notching.
Mortise & Tenon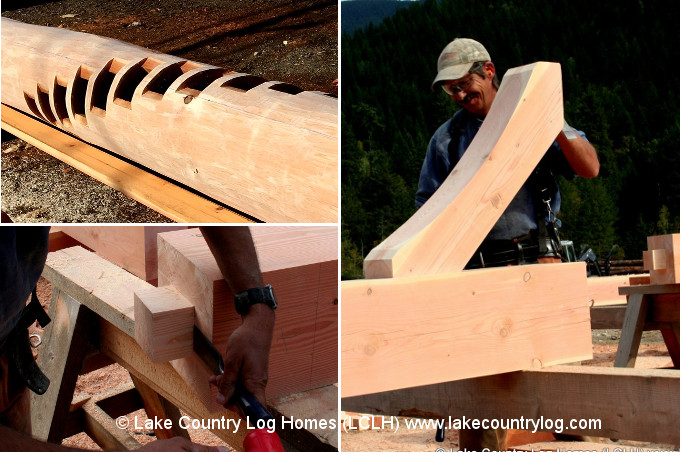 Among the oldest applicatons of Mortise and Tenon joinery was it's use in the construction of wooden lining of water wells in the Early Neolithic Age in Central Europe. We often use it at the intersection of hand crafted log or timber posts and beams as well as to join treads to posts in Hand Crafted West Coast Cedar Log Spiral Stairs.